Believe it or not, I have not
been spending as much time on the computer lately.
I was getting sucked in by all the great blogs out there.
Instead, I've been filling out part-time job applications.
Well, that takes computer time because hardly nowhere has in house applications anymore.
I've been working around the house.
I've been working out and cooking and eating clean.
I've been trying to finish half done crafts.
I've been tending what's going to make it through the fall in the garden.
And in the evenings, I'm falling back into a missed habit of reading for enjoyment.
Currently, I'm reading
Vamp: the rise and fall of Theda Bara
Becoming Mae West
because I've read blurbs about her, and my interest was piqued.
Some things that caught my attention were her height and measurements,
which are pretty darn close to mine -
or at least were since I've been losing some.
Then I read she never drank or smoked or cursed, which was surprising I guess because of the characters that she plays, lol.
Once I finish Theda's story, I'll move on to Mae.
Then, I stumbled upon the recipe book section of the library.
That, I cannot resist.
I LOVE food and cooking.
I love making people happy with food, which is so wrong in some ways, hahaha.
I am not a vegan, but this book caught my eye.
The first page I flipped to was a recipe to make a vegan chorizo sausage.
In fact there's a whole section on "sausages."
I had to pick it up just because of that!
Making healthy sausages?! If it comes out tasting half as good as normal chorizo,
well, maybe I'll have a healthy alternative!
Then, I picked up this one.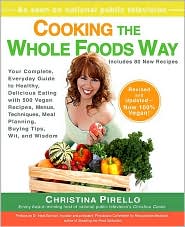 Turns out it's a vegan one as well!
I had picked it up because of all of the veggies we constantly have from the garden.
I am always on the hunt for new things to do with them all.

I saw one that I'm going to grab next time because it was something like the Gardner's Cookbook.
Knowing me, I'll eventually just check out every cookbook in the place!