So, I've been working out, eating right, getting healthy! So how did I wind up in this lucky place?
I have been working randomly from home for the past four years. I do not enjoy my job, but it was convenient. For poops and giggles, I applied for a job that I saw on Craiglist about a week ago. This past Thursday, I received a call to come in for an interview this past Friday. Well, lo and behold, I got it! (on a probationary trial, of course)
What is the job you ask?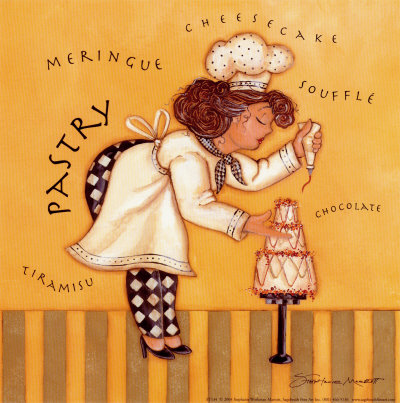 Well, it is a Baker/Pastry Assistant!
Yes, dream of dreams come true!
And the even better part? They are going to train me and move me on up that latter.
Excitement!
I never thought that I would even stand a chance considering all of these people with professional pastry experience who have gone to all of the fancy culinary schools.
Of course, I will be starting at the very bottom, doing dishes, decorating cookies and other tasks, but I will be surrounded by YUM!!
I start tomorrow morning.
We'll see how my waistline fares. Will definitely be making changes to my workout times and schedule.